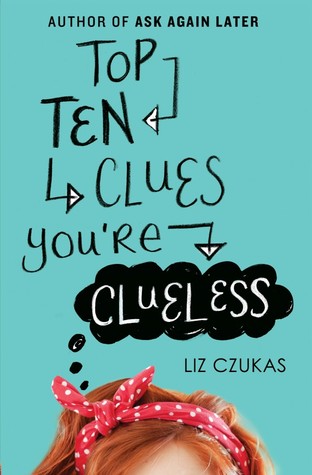 ---
Publisher: Harper Teen
Published on: December 2014
Format Owned: E-copy
Genre: Mystery (?), Humor, Romance (?), Young Adult, Contemporary,
Overview: 
Top Five Things That Are Ruining Chloe's Day

5) Working the 6:30 a.m. shift at GoodFoods Market

4) Crashing a cart into a customer's car right in front of her snarky coworker Sammi

3) Trying to rock the "drowned rat" look after being caught in a snowstorm

2) Making zero progress with her crush, Tyson (see #3)

1) Being accused—along with her fellow teenage employees—of stealing upwards of $10,000

Chloe would rather be anywhere than locked in work jail (aka the break room) with five of her coworkers . . . even if one of them is Tyson. But if they can band together to clear their names, what looks like a total disaster might just make Chloe's list of Top Ten Best Moments.
---
This is one perfect example why I shouldn't expect something from a book with a cover I adore! I mean look at it and tell me it doesn't look funny, cute and witty? RIGHT? Well I expected it to be super hilarious but then…..
I've heard a couple of people saying it was funny, cute and light but it wasn't the kind of humor I expected it to be. Well, yeah there are some funny parts and it really was a light read. But I don't know I mean I finished it in a day but the premise wasn't exactly appealing to me. We have a girl named Chloe who works for a grocery store with a bunch of other teenagers. She's got this huge crush over a co-worker but the whole thing seems to be going downhill.
So on Christmas Eve, they all have to work and they have an event to be shown on TV about the money-raising project the store has created. Something goes wrong because the money wasn't exactly the amount they expected it to be which means the rest was stolen. So each of them were prime suspects and they all got locked up in the break room sharing their life stories until the police arrives. I don't judge the life stories, it was actually insightful but then that was just it. Then Chloe-the-cashier-turned-out-detective solved the crime and it was over and they lived happily every after!
I don't really know what to say about it after reading it actually. Maybe I wasn't in the mood (I read it a month after Christmas) or maybe its just not my cup of tea. But I think it was okay,  I mean there could be a time when I'd pick up this book again and then it'll work for me by then. Maybe some of you will find it a good read so it would be best if you pick it up and see for yourself. Just don't expect anything so much to avoid disappointment (it's a rule right?) If you guys are in the mood for some light, cutesy read then maybe this book is for you.
Have a nice day ahead and God bless 😉