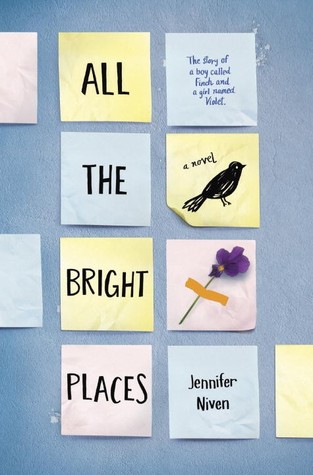 Author: Jennifer Niven
Publisher: Knopf
Published on: January 2015
Genre: Young-Adult, Contemporary, Mental Issues
Synopsis:
Theodore Finch is fascinated by death, and he constantly thinks of ways he might kill himself. But each time, something good, no matter how small, stops him.

Violet Markey lives for the future, counting the days until graduation, when she can escape her Indiana town and her aching grief in the wake of her sister's recent death.

When Finch and Violet meet on the ledge of the bell tower at school, it's unclear who saves whom. And when they pair up on a project to discover the "natural wonders" of their state, both Finch and Violet make more important discoveries: It's only with Violet that Finch can be himself—a weird, funny, live-out-loud guy who's not such a freak after all. And it's only with Finch that Violet can forget to count away the days and start living them. But as Violet's world grows, Finch's begins to shrink.
---
Every now and then, you pick a book that not only provokes you to think deeply but also allows you to plunge deeper into the confines of its reality. A book that changes the way you think of the world and everyone in it. A book that takes something from you at the same time gives back something in return. In my honest opinion, this book managed to influence me in such ways and I cannot for one second regret picking and reading it. But before I read this book, the only thing I knew about it is that it tackles serious subjects like depression and suicide. That alone should make you expect things such as messed-up characters and their messed-up lives. If you haven't noticed I am into these kinds of stories and have read a couple of these life-changing, important and honest books.
Let's start talking about the characters. We are reading through the perspective of two main characters. A boy named Finch who has suicidal thoughts and a girl named Violet who lost a sister during an accident that happened almost 2 years ago. They met on top of the bell tower, without knowing that one day, one will try so hard to save the other. As always, I can't help but be emotionally attached and protective to them. Okay wait, maybe not all of them because I was particularly protective of Finch alone. I adore his character and the way he sees things. You know he is messed-up but it doesn't make him a less beautiful person. He is labeled as the creepy, weird, crazy and stupid kid in school but then you actually realize that apart from everybody else, Finch is the kind of guy, you'd want to become friends with. He is funny, different, insightful and makes you see the bright spots in this crappy world we live in. But  you have to understand that Finch's life is unlike most of the protagonists in these kind of plots. I can't say much so as to avoid spoiling you guys but when you read it you will understand what I'm saying. But take this, Finch clearly has a problem and it annoys me so much that nobody seemed to care even his family. I hated how every time he experiences life as if light is gradually escaping leaving him with darkness and sorrow, his friends and family acts like it has always been that way and that Finch is just being normal, nothing bad will happen and he'll be okay soon. I mean yeah, they care for Finch, but for me it was just not enough.
Then we have Violet Markey, the famous girl who once thought of suicide until she met Finch. Yes, it's this kind of story too… but hey, there's more! Because actually I was grateful to Violet. I mean, I didn't enjoy reading through her perspective but I was thankful that she is starting to become Finch's stabilizer. And because honestly, I think she is the only person who seemed to care for Finch more than anybody else.
Also I just have to mention, how this book influenced me to actually see the world we live in. To explore places in my own town and experience it myself. It has romance in it that is not the cheesy kind of thing but something just the right amount and I actually adore it. There is so much to this book than I ever thought. I felt a variety of emotions as I was going through the story.
Then we have the ending….
It was raw, honest, beautiful and exactly what is needed in the story. I mean, I was up to the point of denial but then I realize it was a tough lesson to all of us. It was sad but beautiful. An exact example of things being learned through the hardest way possible. aaaaaaaargh!
With regards to the writing, I have to applaud Miss Jennifer Niven with how beautiful, honest and intricate this story was written. Then you read the Author's note and you realize why the story, the characters and everything else feels so real. Because yes, the author actually experienced most of what happened in the story. And after finally closing the covers of this book, I knew that this book will have a special place not only in my bookshelf but in my entire being.
I gave it a 5 out of 5 stars on Goodreads
Author's Note: "Every forty seconds, someone in the world dies by suicide. Every forty seconds, someone is left behind to cope with the loss…"
P.S. If you are experiencing depression, suicidal thoughts or other forms of mental issues or someone you know is, I'd like you to know that there are people, organizations, institutions that can and will help you. Please don't be afraid and know this: You are not alone in this fight and you are loved. 
Have a nice day ahead and God bless :*