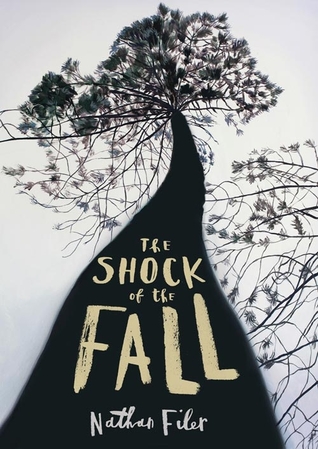 Author: Nathan Filer
Publisher: HarperCollins
Published on: May 2013
Genre: Contemporary, Mental Illness, Literary Fiction, Suspense
Synopsis:
'I'll tell you what happened because it will be a good way to introduce my brother. His name's Simon. I think you're going to like him. I really do. But in a couple of pages he'll be dead. And he was never the same after that.'
WARNING: THIS CONTAINS SPOILERS! but you can read the first part, I'll warn you when you need to stop 🙂
The Shock of the Fall is a story that talks about serious subjects such as death and mental illness. The protagonist here tells the story in a way that he wants it to be told. He writes the story from that moment when he played hide-and-seek, to the day his brother Simon died, to how things were after Simon's death, then to his life as a nineteen year old with a mental illness and up to the day that he gets a grip of his true self.
I read this book like a month ago and up until now I cannot stop talking and recommending it to friends. So I reread it again this month and that brings me to write a review on it. This is one of those books that I really REALLY admire. Aside from the story, I admire how Nathan Filer wrote this book and how he unraveled what our protagonist is like. This book is funny, sad, beautiful, tragic and deeply moving. With the characters, as Nathan Filer introduced and develop them, it is impossible not to get emotionally attached to them especially Matthew (the protagonist). It provokes your mind to think and engage. It is the kind of book that you open and in a couple of pages you are instantly inside its world. Once you are in there you just can't put the book down. Because it would be torture not to know where the rest of the pages will go. By every turn of the page, your curiosity will be fueled and so putting the book down is not an option. It is riveting. It is captivating. It is thrilling.
One of the main topics that circulates in this book is grief. As you read the story you see how the family copes with the death of Simon and you realize that he was like the center of the family, the one that holds them up together. So his death meant that the family was shattered or broken. But they try to put the pieces back together, to hold it up and be able to still live without forgetting those missing parts.
The relationship of Matthew with his parents and the rest of the family was crucial in this story. He understands that with an illness like Down syndrome, Simon needed the necessary care and attention but as a normal kid, it was hard for him to deny the jealousy he felt. Just like the time when he said he sometimes make mistakes during one of the tests so that his mom would talk to him and say some comforting words. He begs for the attention of his mother now that its only him they have. The characters were simply memorable like how he and his dad call each other "mon amis". It shows that his Dad was someone he felt comfortable with and accepted. Then Nanny Noo, Matt's grandmother, was someone who Matt confides and she is an important part of Matt's being.
Through the course of the book, it was confirmed that Matthew suffers from schizophrenia. An illness that causes him to suffer from command hallucinations that is being attributed to his dead brother Simon. He engages in writing sessions, pouring out his thoughts like a dam has been broken and the water lashes out. These writings he made were funny, raw, poignant and honest. With his writings you understand that he suffers from distinguishing reality and make-believe. This is the part that makes this story engaging. Why? Because there are times that he addresses his reader this "I can only describe reality as I know it. I'm doing my best, and promise to keep trying." So in the end it can't be helped to make an attachment or connection to his character.
Then he wrote about the time of Simon's death and you realize that the shock of the fall was the cause of it. You realize that Matt was living with guilt, since he was the one who invited Simon out, made fun of him and scared him to his death. But as he finally gets a grip of himself and his illness he makes an effort to give Simon a memorial. And this, in my opinion was a development in Matt's guilt and well-being. Nathan Filer showed what it's like to suffer from grief, guilt and mental illness and that it does not have to ruin you. But not just that, because he also showed how these people should be dealt with– an open mind, deep understanding and proper care.
 What are your thoughts? Just comment it down below 🙂